Vehicle Restraints
If the severity of the Autism is manifested in wild fits that cause self injuries there are at least a few options that may help. First off there are Car Seats that are made larger than what you find on the shelf at Babies'R'Us. If there is more than a tantrum behind these fits you may need to seek a car harness that is as secure as a 5-point harness.
Walking Harness
The Car Harness described above can also double as a walking harness.
But there are Harnesses that can be used specifically for walking.
Larger Sized Child Seats
There are larger car seats available than what you find in the regular stores.
Canopy Bed
Family Members with Autism are commonly known to NOT sleep solid, NOT sleep regularly, NOT stay in the bed you place them in the night before. There are Medical Grade Canopy Beds that have a metal frame around the bed and zip up sides with netting that is as open as can be and padded. Until they get smart enough to unzip the bed themselves, it works great.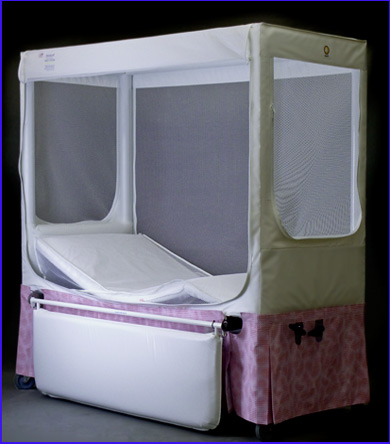 Rifton Chair
This is basically a restrictive chair. It is considered to be an extreme measure. Check for legalities prior to any serious consideration of it's use.
http://www.rifton.com/products/special-needs-chairs
Weighted Blankets
These did help until about the age of 6. It was hard to keep anything on his body that would keep him warm on cold nights. He would be a popsicle in the morning but he seemed to keep these blankets on him most of the night.
GPS
There are GPS's but the challenge we have had in adopting this is in attaching a GPS in a way that will actually stay attached. The Tile can be added to the chain holding the Dog Tag and as that tech is adopted more and more the theoretical distance is unlimited.