Please know that every situation is unique and before implementing any new solution you should seek advice from the professional team that provides care for the loved one that has Autism.
The information on this page was current at the time of writing, but things change. If you find any information on this page that is out of date, please do let us know by using the contact form.
"Useful and Practical Products Parents and Families can use to Help Manage Life with Autism."
---
Last Updated: 21 July 2017

21 July 2017
Swing
We took a swing hammock and hung in from the Ceiling in the Living Room. This helps us calm him as well as giving him an activity he can do indoors.
Outdoor Trampoline W/ Netting
This is a great activity, We also had an indoor small trampoline that he used until he broke it 4 times. (He uses it that much)
Pools
A pool is about the greatest way to wear out a child with Autism. It is a well known trait that due to sensory issues they seem to gravitate towards water.
Last Updated: 06 July 2017

06 July 2017
Dynavox
A dynavox is an Augmentative Communication Device. It is a way for someone who does not talk to express basic ideas. Dynavox is referring to both the software name and the name on the hardware (Touchscreen, Although you may never see it. It is Running on a WinXP OS). This computer is heavy duty and hard to break. (Note: This is to imply that you should expect that as sturdy as it is, it is breakable. Ours would survive a year at a time.)
Last Updated: 21 July 2017

21 July 2017
In our situation we did notice a difference. First off this diet and a series of Pro-Biotics stopped the CVS Cyclical Vomiting Syndrome my son was experiencing. We also noticed a slight increase in responsiveness but the emphasis is on the "slight". We keep him on this diet, to us it is worth it.
Last Updated: 03 July 2017

03 July 2017
Hyperbaric Chamber
We tried this and found no value. I am aware of others that have had the same result. I believe this is just another example of predatory marketing. But, to be fair... if you are reading this and have had a different experience please let me know by clicking on the Contact Us link.
I am including ONE link in case you are interested in knowing what the hype is behind it. 
Last Updated: 21 July 2017

21 July 2017
Childproof cabinet locks
We found that the safety locks that have a magnetic key for opening work the best.
  Other childproof cabinet locks
Fencing
This is an absolute must. Some tips are to get an 8-12 foot privacy fence. Typically the flat face side of the privacy fence is facing out. If your purpose is for the safety of a family member that is severe on the spectrum you will want the flat side facing into your property so that the family member does not use the cross support as an aid to climb it. If you have a concern about digging under or over then something like chicken wire added on as diagrammed can solve that.
BioMetric Locks
A key for every door gets to be extremely annoying. BioMetric locks that can recognize a fingerprint and open is easier to manage when there is an uncooperative child in the other hand.
Door Alarms
One on every exterior door is useful, but be sure they each sound different so you know which direction to run in.
Water Cut off Valves
My son has flooded a couple of homes. Installing water cut off valves to the bathtub and other water sources can save you from a big headache. I would recommend that these be put in a convenient place, concealed, lockable. If they are not convenient then they will not always be used.
Sinks that auto shutoff
My Son has fluctuated my Water consumption from 4800 Gallons in a Month to 24400 Gallons. Getting those Bathroom Sink Faucets you find in an office building where they shut them selves off will more than pay for itself.
Gates
Baby Gates are useful but after a Child with Autism is able to push past you're in trouble. Having Dutch doors, or wooden gates that are the same size as a baby gate but hinged and heavier will help greatly.
Odor out enzymes
Some children with Autism, Experience CVS (Cyclical Vomiting Syndrome) or they take far longer to potty train. If you can get rid of all Carpeting you will be better off, but if you cannot then they make Odor-Out Enzymes that help manage extreme cleaning jobs.
Also consider different flooring options: Tile, Stained And or Sealed Concrete
WebCams
An InfraRed webcam in our son's room helps us see if we really need to go in and take action or if he is just fitting. You know if you open the door to check then the child will be awake regardless of what Schrodinger may have led you to believe.
Last Updated: 21 July 2017

21 July 2017
Vehicle Restraints
If the severity of the Autism is manifested in wild fits that cause self injuries there are at least a few options that may help. First off there are Car Seats that are made larger than what you find on the shelf at Babies'R'Us. If there is more than a tantrum behind these fits you may need to seek a car harness that is as secure as a 5-point harness.
Walking Harness
The Car Harness described above can also double as a walking harness.
But here are Harnesses that can be used specifically for walking.
Larger Sized Child Seats
There are larger car seats available than what you find in the regular stores.
Canopy Bed
Family Members with Autism are commonly known to NOT sleep solid, NOT sleep regularly, NOT stay in the bed you place them in the night before. There are Medical Grade Canopy Beds that have a metal frame around the bed and zip up sides with netting that is as open as can be and padded. Until they get smart enough to unzip the bed themselves, it works great.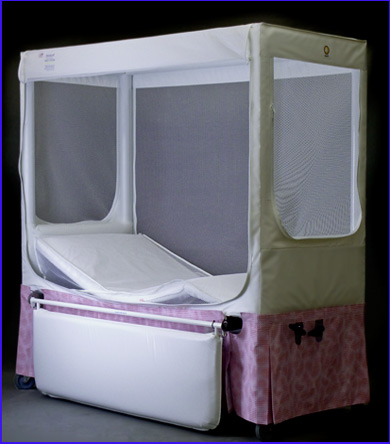 Rifton Chair
This is basically a restrictive chair. It is considered to be an extreme measure. Check for legalities prior to any serious consideration of it's use.
http://www.rifton.com/products/special-needs-chairs
Weighted Blankets
These did help until about the age of 6. It was hard to keep anything on his body that would keep him warm on cold nights. He would be a popsicle in the morning but he seemed to keep these blankets on him most of the night.
GPS
There are GPS's but the challenge we have had in adopting this is in attaching a GPS in a way that will actually stay attached. The Tile can be added to the chain holding the Dog Tag and as that tech is adopted more and more the theoretical distance is unlimited.
Last Updated: 21 July 2017

21 July 2017
Pouch for Re-Enforcers
These Fanny Packs are a lighter version of a military web-belt with pouches to put your wallet and keys while you go jogging in shorts and shirts that have no pockets. When out and about in public we have found that these types of belts filled with treats like skittles make a good spontaneous reward for good behavior. Especially when implementing behavior modification based on Applied Behavior Analysis.
Identification Tag (Military Dog Tags)
If there is ever a moment when your heart stops it is when you see that the door leading outside of your home is ajar and your non-verbal child with autism is nowhere to be found. You would find it comforting to know that the child is wearing a tag with information on it that can get them back home.
Suggestion / Example:
First Lastname DOB
Autism Non-Verbal
StreetAddr and ZIP
MOM 678 555-1212
Fluorescent Clothes
When someone in your family has severe autism they may also be non-verbal. This means that when you call this person the chances of them answering or returning to you are pretty slim. If you ever needed to pick your loved one out from a crowd, or worse find them in a rural or wooded area. This would make a huge difference. In our case we just made ALL shirts fluorescent in color.